One of the things I and a few others have been interested in is the inheritance system for puppy coats in 2.7. Curiosity got the better of me, so I put together this chart of the different coat colors and their corresponding puppy colors. Each corresponds directly to the wolf who is holding him/her, as I tested in multiplayer co-op when I was the only player.
If you'd rather find out the colors for yourself, feel free- but I've included the chart in the spoilers below.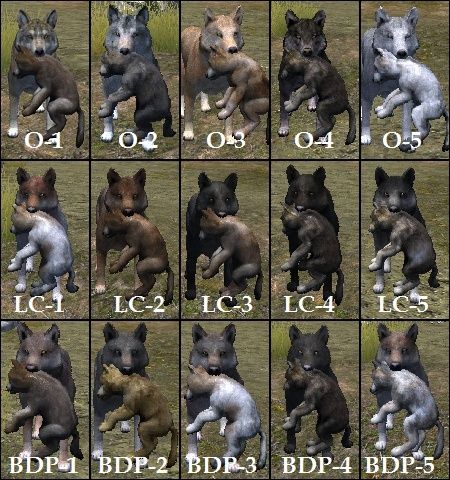 The coat name designations are the pack name and the number the coat appears in on the menu- 1 being far left, and 5 far right. "O" indicates the original set, "LC" Lamar Creek, and "BDP" Blacktail Deer Plateu. I did not test the Life is Rough coats, as they are just variations off existing colors.
A few notes~
LC-2 and BDP-2 are the only wolves with the tint sliders changed. Note the effect on LC-2's puppy, however- compared to LC-3 and O-3, the pelt is noticeably darker and more reddish- in correspondence with the tint slider changes, it seems.
O-5 is the only coat that produces a naturally occurring pure white puppy.
BDP-2 is the only coat that produces a blonde puppy.
So what do you guys think? Do you like the new puppy coats? What color is your wolf and their puppies?